THE BROTHERS AND SISTERS IN THE UNITED STATES OF AMERICA


At the old foundries the blacksmiths who hammered iron had a comparatively high salary and other benefits.I remember such a blacksmith who had own wagonhorses. One day he drove up to the mansion, under the influence of alcohol and in an exhilarated mood. He asked the Count if he wanted to change horses with him. The Count became very offended and fired him.But due to the skill of the blacksmith he was coveted and was offered a new employment in the industrial community where I was living and from where I remember him. The blacksmith became in his later age a storehouse administrator, which caused no change to speak of in his financial situation.The payment at that time was very often in kind, instead of cash.

The poorest at this time were the so called "backstugusittarna"crofters. They lived in cottages located on land that belonged to another landowner, but the area was too small to support an entire family.The peasants on the other hand, could support their families, from the land that the landowners provided them. They had to perform day´s work in return on the big farms. These people were a big asset in foresting and the agricultural, at wood-cutting,charing and delivery of the carbon to the foundries. In addition to that all possible services, belonging to the livelihood from berry picking in the forests to sowing and harvesting work.In everything they contributed to improve the living conditions but received very little in return. After a working day that was lasting ten to twelve hours, the salary was only enough for one kilo butter. The families were often big with many mouths to feed.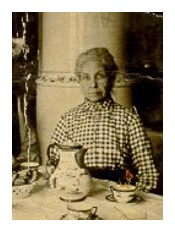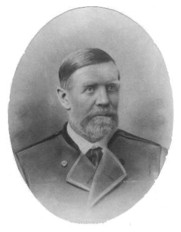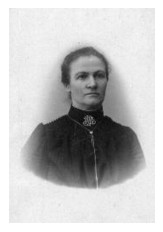 from.left: Sofie, Pelle, Julia

Forester Pelles family did not belong to the poorest people, but the family was big. Eleven children were given birth to in the religious home in Grytgöl and Regna. Nine of them emigrated to America because of the small income possibilities. The sister Julia returned with her husband Albert to Sweden after some time. The brother Ernst had already 1910 died over there and Charles had returned to Sweden after 24 years.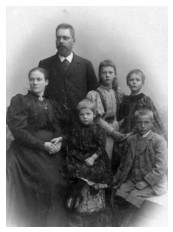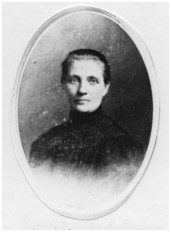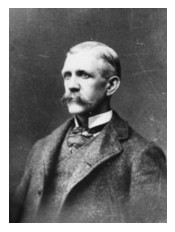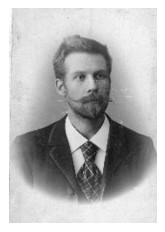 Julia & Albert and their children, Augusta Amanda, Charles, August my grandfather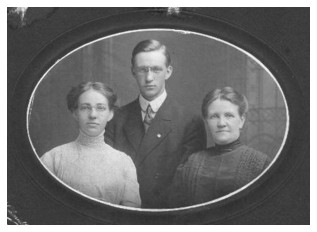 Tillie, Rudolph (Frida´s son) and Anna. August, One of the siblings, August, was offered a free ticket to the big country in the west. When the old father heard about this he said under tears:"I thought that you would become my old age´s comfort."August then gave up the offer and remained home. Then it took many years before he once more saw some of the brothers and sisters. Despite this he kept the contact and the friendship with them through letters. On one occasion, he boiled lingonberries, which he had picked in the forest and sent them in a demijohn to the sisters in California. After some time, the same demijohn came back with Californian raisins.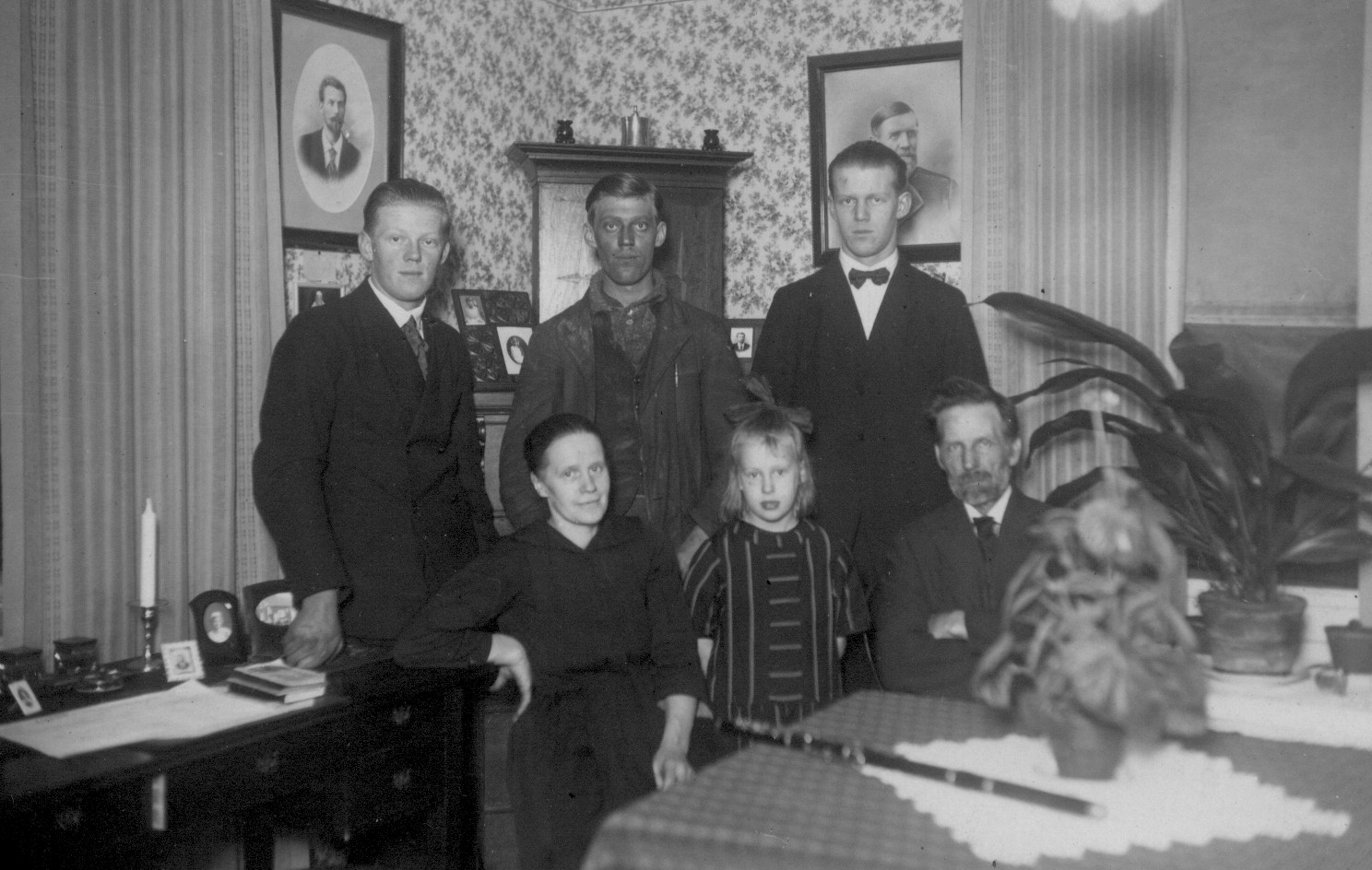 Evan, Julius and Artur Ericson
Valborg, Brita and August Ericson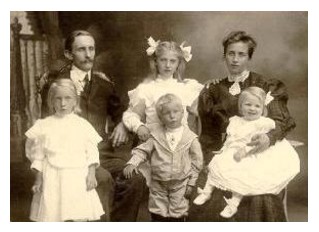 Ernst & Helen and their children.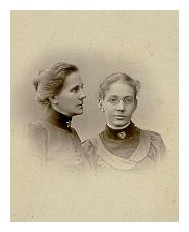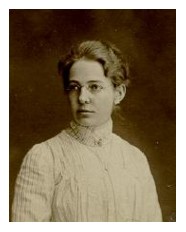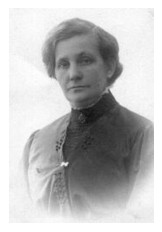 Frida & Tillie,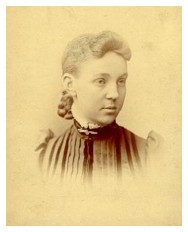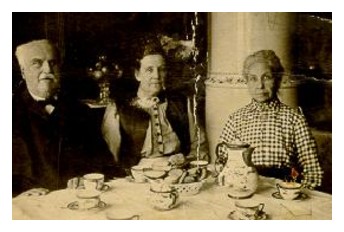 Susanna, Gustav Andersson, Frida and Sofie.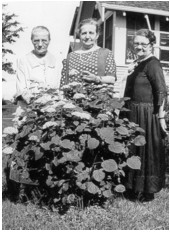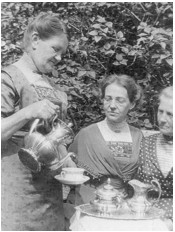 Amanda, Frida, Anna. Anna, Tillie, Amanda.
Once more, it became hard times, through the economic crisis, which went across the world during 1929.A big unemployment arose at that time in America. More than seventeen millions became unemployed. Earlier the slogan had been: "Everyone is the architect of one´s own fortune." Now the American president Franklin D. Roosevelt came with a reform proposal to remedy the effects of the depression. The content of the reform included among other thing that a small propertity tax was taken out on real-estate.An equalisation was expected to make it possible for seventeen millions of unemployed to survive. Such an action was welcomed of many with big satisfaction, but not of everyone. In America as well as in Europe was contempt of human beings arising. Hard words were expressed. "Correction with scorpion scourge" From one of the sisters came a letter to August in Sweden. She had a big family. Her children were now grown up, some of them were succesful businessmen. Some had participated in the First World War, and had returned alive. They were well off and owned real estates. The sister wrote in her letter:"This President is a disaster for the country." At the same time, a letter came from one of the other sisters. She had during many years worked for rich families, and was also comparatively well off. The content of her letter was entirely different:"We cannot enough thank God for the president we have." Despite that the sisters had very much in common, they had very different opinions about the American president´s reformproposals. Perhaps, it depended ont that their living conditions to some extent were different at that time. Nevertheless they had grown up together in a small industrial community in Sweden, with big social differences. There was the foundry proprietor, who owned properties and collected a big amoount of interest. Their father Pelle, was employed as forester and the right hand of the foundry proprietor. He often had to drive the foundry proprietor to his properties. When they arrived to different villages, women were frightened standing behind the curtains saying to each other:"the doctor is here." Begging was legal. The poorhouse had hardly floor of soil, but orphans and cripples were sold by auction to those who gave the lowest bid. Such was the reality where they had grown up.They had also seen the religious intolerance amongst the clergymen, who had ordered the county sheriff to arrest the revivalist. They had partly been forced to emigrate due to the reason that they belonged to the revivalist movement. In the new country, they had etablished themselves and got a new future. How much of thir childhood´s experiences of social injustice had they been able to repress in the new country? That question is of course not possible to respond.

The above story is a summary of my father Arthur Ericson´s notes. As a small addition I would like to inform something about August´s annual income during 1898. He was at that time 32 years old and employed as master of packing at Grytgöl´s foundry. This information I have got from the regional archive in Vadstena and is an extract from the register of tax payers. As a comparison I have also added information about some other persons from Grytgöl. My opinion is that August had a relatively good income at tat time. Master of packing August Ericson 800SEK, Managing director A. Burén 3600SEK, Bookkeeper C.D. Burén 1300SEK, Gardener E. Westerberg 500SEK, Foreman C.G.Sundin 1200SEK, Smith E.A. Tolf 500SEK and Bookkeeper of trade C. Sundin 500SEK.

Information compiled by Rolf Ericson and free translation into English by Astrid Alm Eddo and Barbro Holmström, 2007-07-04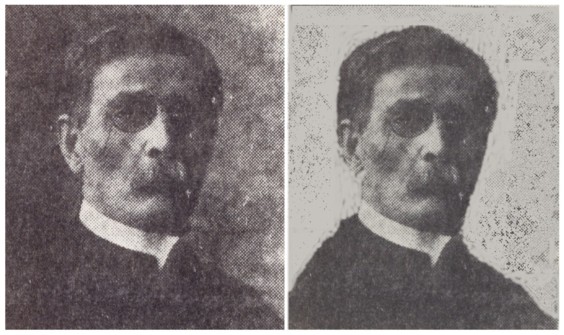 From a scripture from Cleveland Ohio 1935
JOHAN AUGUST ANDERSSON (JOHN A. ANDERSON)

One of the Master´s faithful servants and a brother much beloved member of our conference namely Rev. John A. Anderson of St. Paul, Minn., has during the year entered into the rest awaiting the children of God.

Our departed brother was born in the neigborhood of the city of Norrkoping, Sweden, January 10 1856, and died in St Paul, Minn., April 7, 1935 at the age of 79 years, 2 months, and 26 days.

On November 20, 1879, he was united in marriage to Augusta A Erickson, who now is left to mourn his departure. In the fall of 1881 he came to America and the first two years the family had there home in Chicago, and from there they moved to Minneapolis, Minn.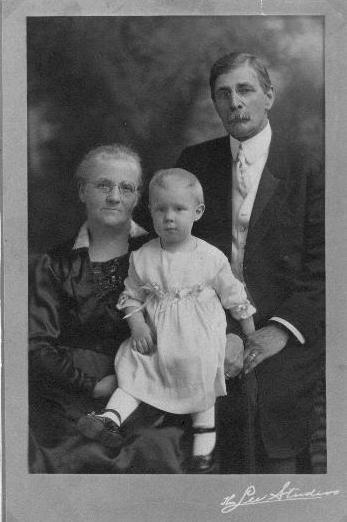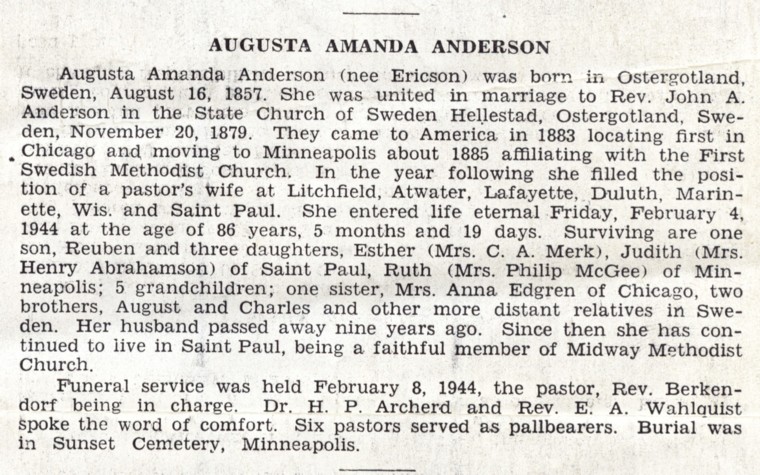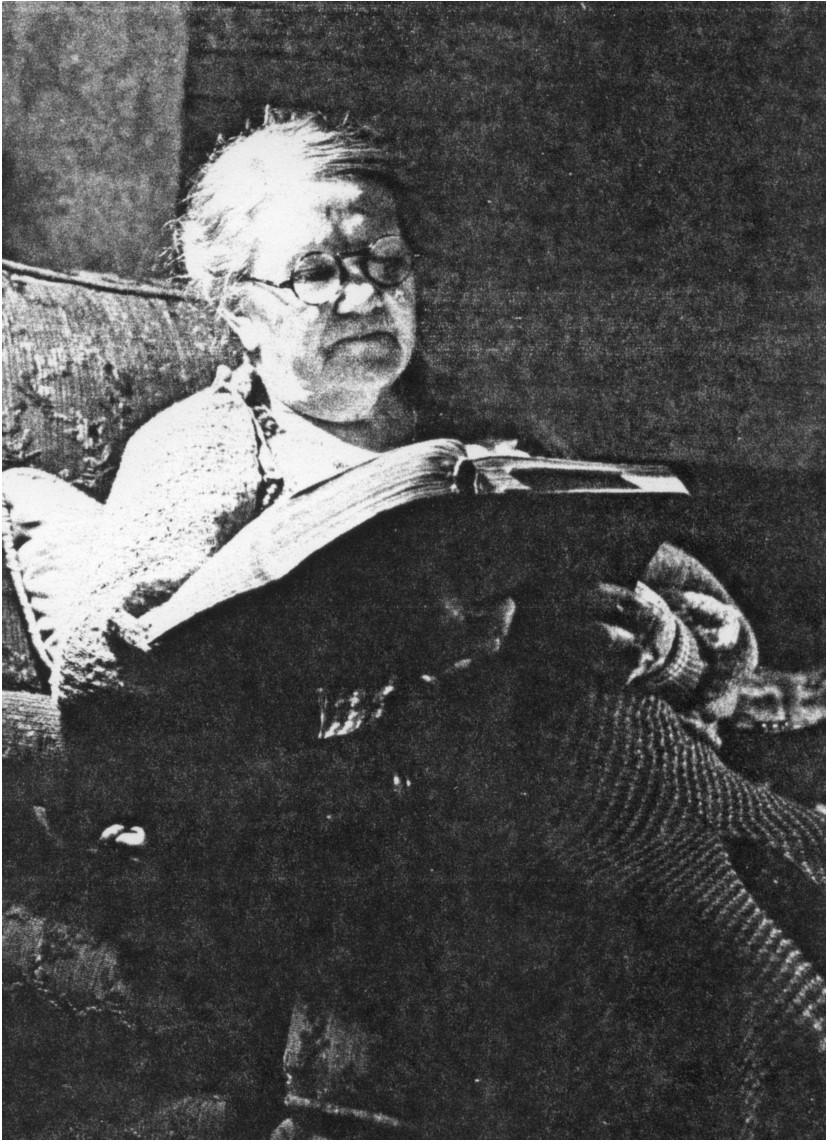 This is Erik and Anna L. Edgren and their children.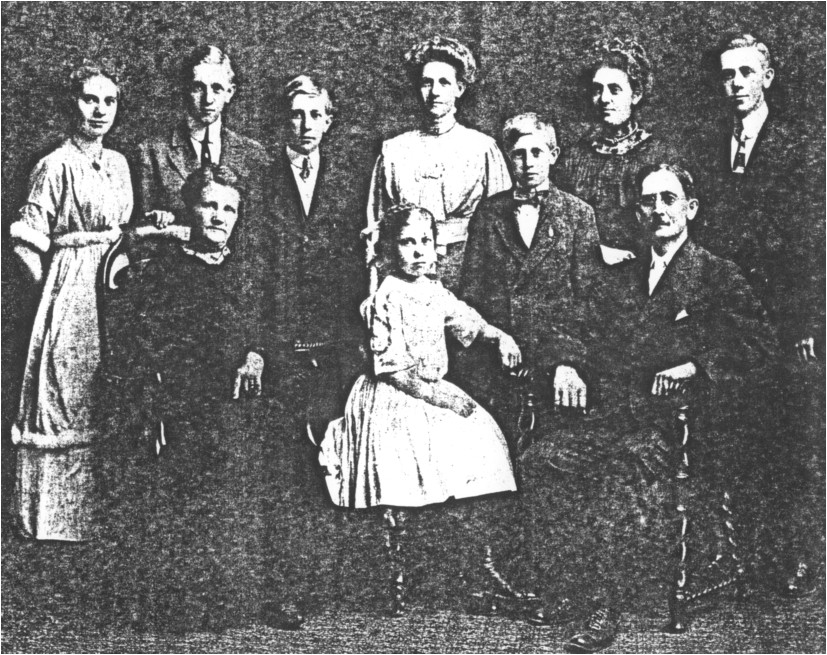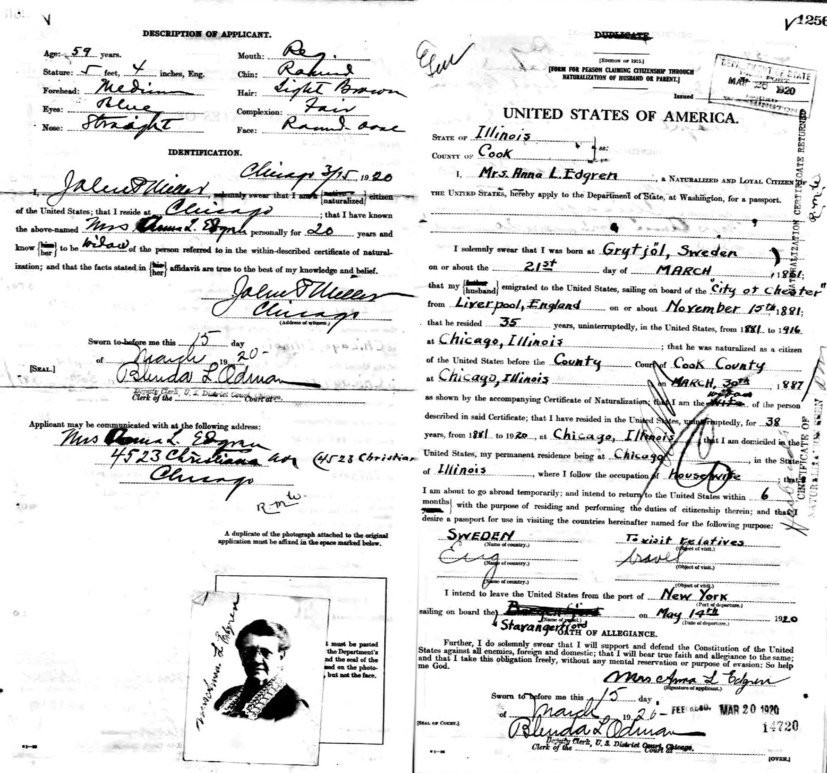 I tried Ancestry and this is only one example what I find there about Anna Edgren, and much more than this. Try even you, but I recommend you to start building your own familytree.






LOOK HERE!